Rhubarb Dump Cake Recipe
Are you being run over with Rhubarb?  I want to share the best Rhubarb Dump Cake Recipe we have ever had.   It is so good my hubby eats almost 1/2 of it at a sitting.   OH did I mention it is also gluten free and dairy free, but you'd never know it!  And the best part is, you don't have to worry about frosting this cake!
My Rhubarb comes from my family's homestead in Cleveland, North Dakota.   My great aunt dug some root and planted it when she moved to Oregon.  She lived in Oregon her entire life.   We ended up living 2 door down from her when I was a little girl.   So when I visited home as I grew older, she'd always dig up a piece and I'd plant it wherever I lived.  I've had cuttings from the same rootstock from ND growing in California, Montana and now Alaska where we currently reside.  This Rhubarb rootstock grows like crazy and the flavor in baked goods is so good.   I've dug root plantings and given it to friends and family as we have moved from place to place.
Did you know Rhubarb actually has fabulous health benefits?   Most of the health benefits are related to polyphenols called tannins and anthraquinones.  Rhubarb is easily absorbed after ingestion!  So it's a very safe way to get your polyphenols.
Rhubarb Helps Fight inflammation – Inflammation is a protective mechanism of the body.  But when we have chronic inflammation it can lead to various diseases and problems. Rhubarb has powerful anti-inflammatory effects! Did you know that Rhubarb has often been used in Chinese medicine as a treatment for inflammatory diseases like appendicitis and rheumatoid arthritis?
Rubarbs Helps digestive problems – Rhubarb helps digestive issues and gastrointestinal disorders such as constipation.   A compound in the plant called rhein is known to promote bowel movements.   The tannins in Rhubarb are anti-diarrheal compounds,  they help to regulate the absorption of water in the digestive tract which helps to prevent diarrhea.
Researchers have found that, rhubarb is also effective at helping improve proper kidney function!
So use Rhubarb in ways that you like and know you are helping your body at the same time.   Just remember the leaves are poisonous so throw those away.  Only use the lovely stems!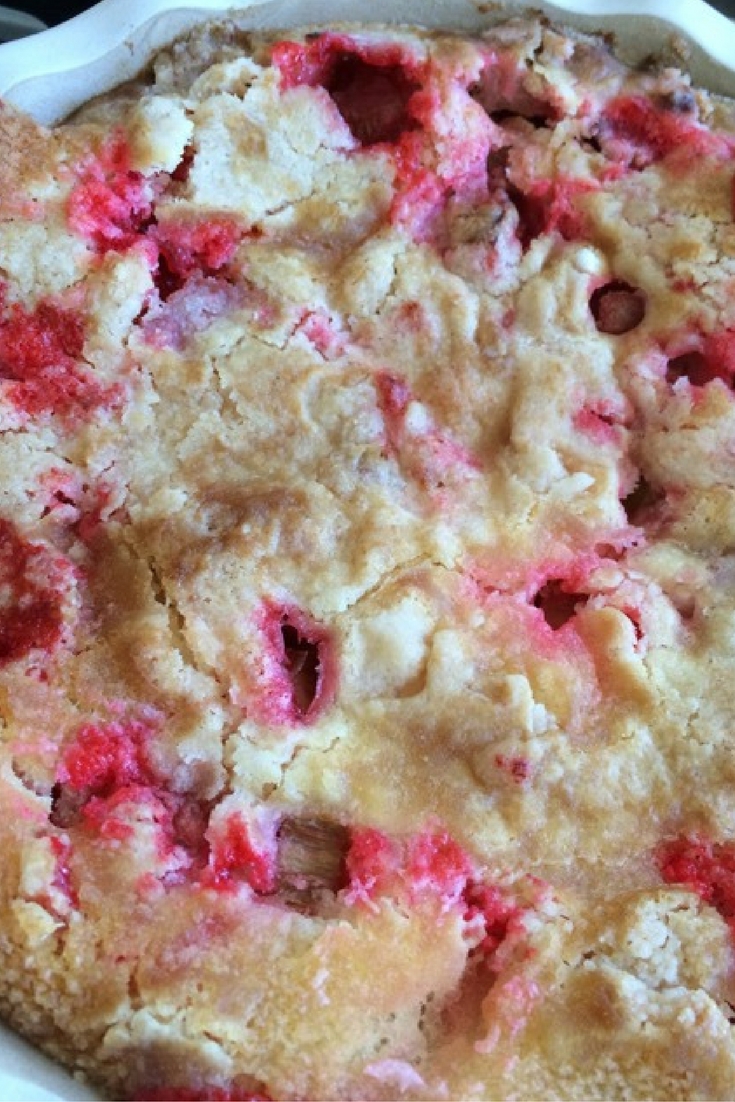 The photo above shows this Rhubarb Dump Cake that I baked in a Pampered Chef Deep Dish Pie Plate.  It is only $20!! It is unglazed stoneware inside and glazed on the outside.  It bakes so evenly and things just don't stick!  I love this dish and use if for cakes and casseroles too! I've had mine over 20 years and it performs like new!
FYI I have used frozen rhubarb before with this recipe and it doesn't work – it has too much liquid.
Do you have a favorite Rhubarb recipe you like?  I'd love for you to share the name of it in the comments below!
Rhubarb Dump Cake Recipe:
Easy Rhubarb Dump Cake Gluten Free Dairy Free Vegan
Author:
My Dairy-Free Gluten-Free Life
Ingredients
Easy Rhubarb Dump Cake
4 cups fresh rhubarb, diced small
½ cup organic sugar
1 3 onz package strawberry or raspberry jello - I used strawberry
1 package Gluten free white or yellow cake mix -I used Pamela's
½ cup butter substitute melted
1 cup water
Instructions
Putting It All Together:
Place Rhubarb in un-greased baking pan, I used extra large pie dish but 9x9 or 9x13 works well
sprinkle sugar over rhubarb
sprinkle jello over sugar
sprinkle cake mix over all…
drizzle melted butter substitute over cake mixture
drizzle water over the butter mixture.
I rolled the pan to make sure water at least touched all the dry cake flour. The ingredients do not mix together. You are just dumping things in order on top of each other.
This leaves a slightly crunchy sweet topping on the crust after being baked.
Bake 350 for 50 minutes. Serve warm alone or with dairy free cream or ice cream or as my husband does, pour your favorite non dairy creamer on top.