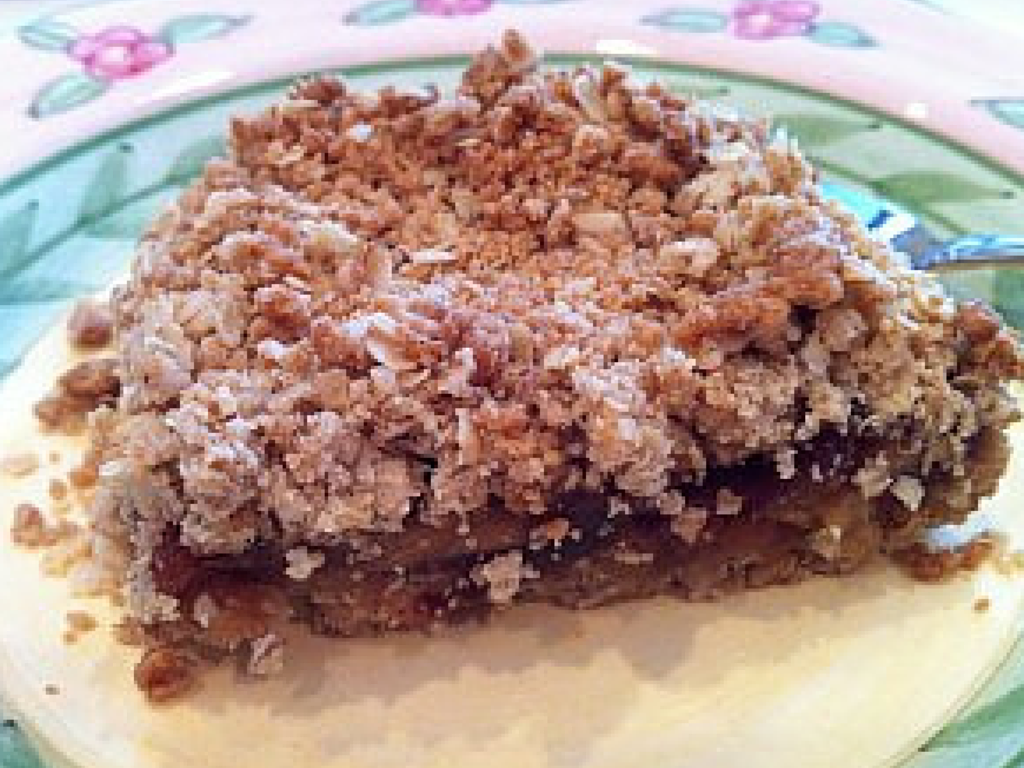 Some of the treats I grew up with I have made Vegan and Gluten Free. I'm sharing my mom's recipe re-done for Vegan Gluten Free Date Bars.
I just love these Date Bars and consider them a comfort food in addition to a dessert or snack.  I use MedJool Dates because I think they have better flavor and texture.  This recipe originally had finely ground nuts in the date filling, which you could add, but I prefer the filling just to have robust date flavor and not much else.  I was so pleased to find Quinoa flour in our grocery store here in little Homer, AK!  So I used that and sweet white Sorghum flour along with GF oats to make this.  Enjoy!
Vegan Gluten Free Date Bars
Author:
My Vegan Gluten Free Life
Ingredients
Dough:
¾ cup coconut oil
¾ cup brown sugar
2 tsp vanilla
1 tsp sea salt
½ tsp cinnamon
1 cup Quinoa flour
½ cup sweet white Sorghum flour
1½ cups Gluten Free quick oats
Filling:
3 cups chopped Medjool Dates
1½ cups water
⅓ cup organic natural sugar
½ tsp sea salt
½ tsp vanilla
Instructions
Dough:
Blend with mixer the brown sugar, vanilla and coconut oil
Add 1½ cups flour mixture ( any GF blend ) and 1½ cups GF oats
This will be like crumbs. You do not want it to be a batter.
Filling:
In kettle on the stovetop add water and chopped dates. Cook over medium heat until thick. Use a hard spoon to mash the dates while they cook. Then add vanilla after the mixture has cooked and blend.
Putting it all together:
Put ½ the crumb crust mixture on the bottom of 8x8 greased pan. Firm the crumbs by patting with your fingers.
Put all the date mixture on top of the crumbs spreading the mixture to the edges of the pan.
Put the remaining ½ of the crumb mixture on top of the date filling.
Bake and enjoy!
I love to bake in ceramic dishes.   I use a ceramic 9×13 pan that is glazed on the outside so it looks pretty. I bake entrees and desserts in it. They bake up so well and don't burn.  You can get one on Amazon here:
What is your favorite Vegan Gluten Free Dessert?