Breakfast Dessert Date or Raisin Bars
Here is another Breakfast Dessert recipe I think you and your kids will love!  My mother's original recipe for Date Raisin Bars has been one of my favorites and I am sharing it with you.   I love to eat them for breakfast but mom also served them for dessert!   It's very easy and nutritious and tastes so sweet!  I've converted it using gluten free flour!  You can't tell it's gluten free.  My husband said you gotta make these more – so you know they are good.
Since this recipe is my mom's ORIGINAL recipe, it probably calls for more sugar than you may want.  Just cut the sugar and don't worry about replacing it with anything – it should be fine.   We have always liked it really sweet.    The original way to make these was to use raisins.   We have also made it with a mixture of both raisin and date or just date.   Some back in the day also mixed very finely chopped nuts into the filling but I like the texture of the filling without the nuts.   You can also substitute the butter or butter substitute with coconut oil.   I tend to light the richness of more dates so I use a mixture most often that has a bit more dates.   So play around with it and enjoy!   The recipe I used is below.
I used the following Bob's Red Mill products for making the Breakfast Dessert Raisin Bars –  Organic Gluten Free Oats and their newer Gluten Free 1-1 Baking Flour made to be used to replace any flour cup for cup!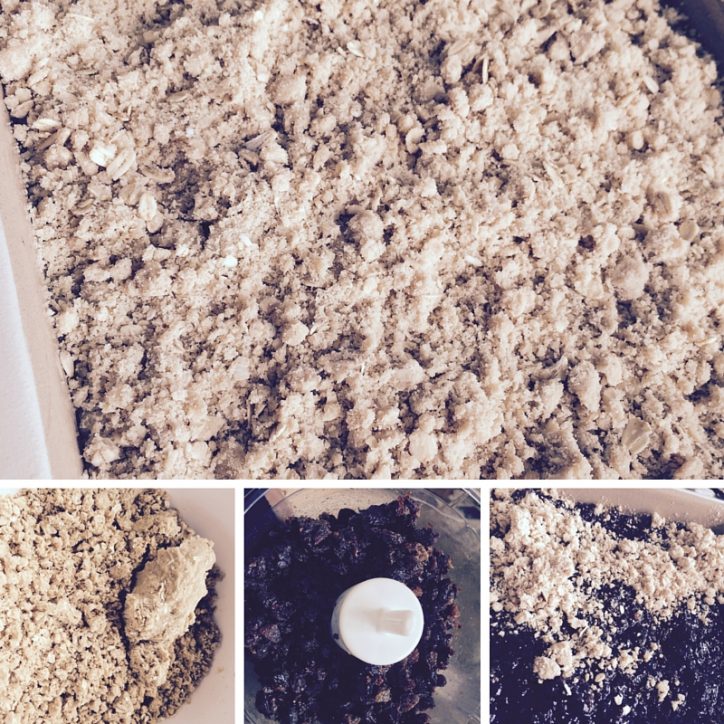 The recipe calls for cut raisins.  My mom use to cut them with scissors believe it or not!  But thank goodness for technology!  I use the Cuisinart Mini Prep below to blend or chop so many things for baking!  It's a very handy tool to have in the kitchen.   It chops about 2 cups easily at one time.  I love it.  You can get yours HERE.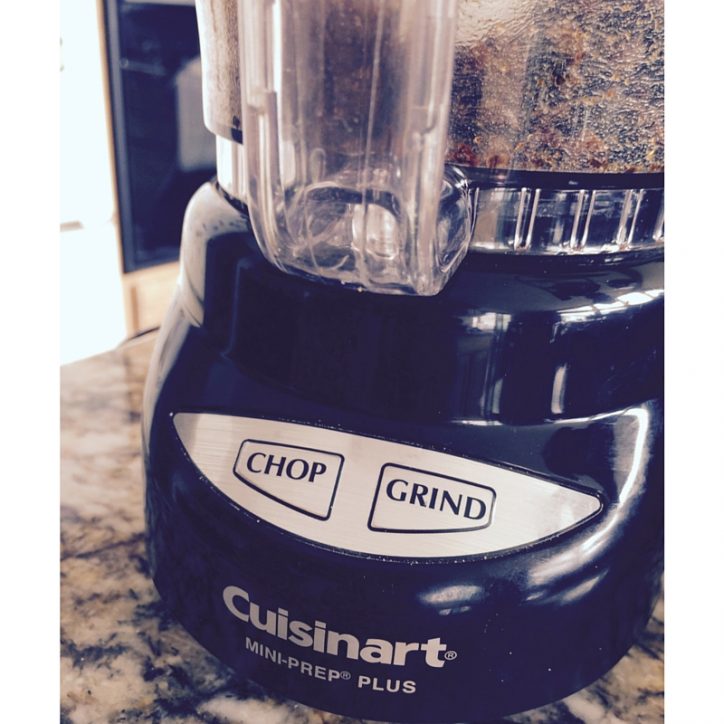 Recipe for Breakfast Dessert Date Raisin Bars:
Breakfast Dessert Raisin Bars
Author:
My Dairy-Free Gluten-Free Life
Recipe type:
Breakfast, Dinner
Ingredients
What you will need:
CRUMB CRUST
2 cups Organic Gluten Free Oats
2 cups Gluten Free Flour
2 cups Brown Sugar
1 cup butter or butter substitute, melted - I use Earth Balance Vegan Shortening
½ tsp baking powder
1 tsp salt
FILLING:
4 cups raisins, chopped Or you can use dates chopped. OR you can use a mixture of both!
½ cup sugar, organic
2 cup filtered water
3 Tablespoons corn starch
Instructions
Putting it all together:
CRUMB MIXTURE: Mix all the Crumb Crust ingredients together in one bowl. I blend with a fork, then use my hand. The topping should be very crumbly but if you put some in palm of your hand, it should hold together when crunched. See the photo.
FILLING: Put all the filling ingredients into a sauce pan and bring to boil. Continue to simmer until thickened. Remove from heat.
Spread ½ the crumb mix into bottom of greased 9x13 baking pan. Spread with the cooked raisins and top with the other ½ crumb mixture.
Bake at 350 for 25 minutes, remove and cool in pan. Cut into squares and enjoy!