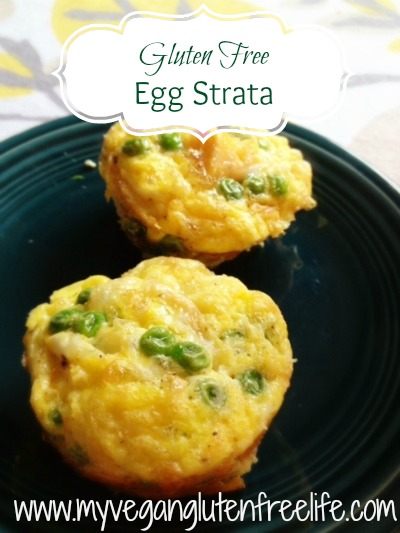 This Easy Cheesy Egg Strata recipe is so simple to whip up, and can be fully assembled the night before so all you have to do in the morning is pop it in the oven. That's the kind of recipe that makes brunch fun instead of work. Having a simple Dairy-Free Gluten-Free make-ahead dish to bring to brunch is a great addition to any cook's toolbox.
I especially love that you can keep the cheesy gooey-ness of the Egg Strata when you use the right vegan soy cheese. I have found one that works well and has the right "melty" factor.
A note about the non-dairy milk — be sure to get an unsweetened, unflavored variety because you don't want any weird sweet taste to the Egg Strata.
Author:
My Dairy Free Gluten Free Life
Ingredients
1 8-oz loaf gluten-free bread, torn or chopped into roughly 1" cubes You can use pre-made bread, or make your own gluten-free bread (link here)
½ cup sliced green onions
2 cups fresh cooked asparagus
1 cup peas - can use fresh or frozen
2 cups soy cheese ( I use Daiya )
5 beaten eggs
2½ cups non-dairy milk. Unsweetened soy or almond work well.
3 tbsp dry mustard
salt and pepper to taste
Instructions
Grease a rectangular glass baking pan.
Whisk together the eggs, milk, mustard, salt, and pepper. Fold in the asparagus, peas, onions, and cheese.
Layer the bread cubes on the bottom of the baking pan.
Pour the egg mixture on top so that all the bread cubes are saturated with the egg mixture.
Cover and refrigerate at least 2 hours, and 24 hours max.
Uncover and bake in a 325 oven for 40 minutes.
Let stand for 10 minutes before serving.
This is delicious warm from the oven, but can also be served cold as leftovers!
For a kid-friendly twist, you can also pour the egg mixture over small bread cubes in individual muffin tins. It's easy to serve and eat that way, and kids will love the bite-size strata! If you're making it in a standard size muffin tin, bake at 375 for 15 minutes.
My favorite soy milk for baking with is Pearl and it is getting harder to find in grocers. BUT you can always count on Amazon, you can get what I use here:

Recipe Bio:   I'm Sarah White, Owner of Mindfully Frugal Mom, and I believe passionately that eating natural foods does not have to break the bank. I devote my time to creating a healthy lifestyle for my family while saving money. In my limited spare time I can be found having dance parties to musical theater with my 2 preschoolers.
 I love that an Egg Strata can be made Dairy-Free and Gluten-Free!